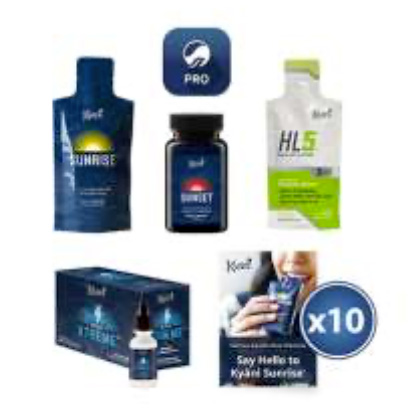 Kyäni Product Pack
This business enrollment pack contains an array of Kyani's most popular products, the new range of skincare, plus some information brochures that describe the beneficial effects that a person can expect from using the Kyani products.
Country
Sign Up Price
$399
Buy Now
Not in USA? Click here to place an international order in over 80 countries
Clicking 'Buy Now' will direct you to the 100% secure main Kyani website, where you will complete the purchase. All purchases are shipped from the closest distribution center in your country of residence.
Kyani Business Pack
This pack now comes with selected products from Kyani's new range of skincare, Fleuresse!
There are sufficient products in the Kyani Business Pack that you will want to use yourself and several sample products that you may want to give to potential customers. You will also receive your personalised Kyani new distributor folder that will contain your individual distributor ID number. This number is uniquely yours and will be used to track your orders and the purchases made by your customers.
What Does this Business Pack Contain?
Kyäni New Distributor Folder
1 x Kyani Sunset 90 Count Bottle
1 x Kyani Sunrise (Packets)
2 x Kyani Sunset
1 x Kyani Nitro Xtreme 15ml 8Pack
1 x Kyani HL5
10 x Kyani Sunrise Sampler
3 months Kyani Pro
How Can You Buy the Kyani Business Pack?
Some Kyani packs are only available in specific international markets. For availability and a price in your local country of residence, click on the button below. After clicking the button below, leave the 'Placement' field blank.
All orders are shipped fast from your LOCAL distribution centre. For example, USA orders are shipped from Idaho Falls.

Kyäni Product Pack
0

out of

5

based on

0

reviews.
Overall rating: