Top Tips for a Guilt-Free Thanksgiving
It's that time of year again….good ol' loosen your belt and put away the scales Turkey Day! When it comes to Thanksgiving, most people approach the holiday with a "go big or go home" mentality.
However, going all out doesn't mean you have to sabotage your health. With a little help and know-how, you can still enjoy all of your traditional favorites without the typical avalanche of calories and experience a truly guilt-free Thanksgiving.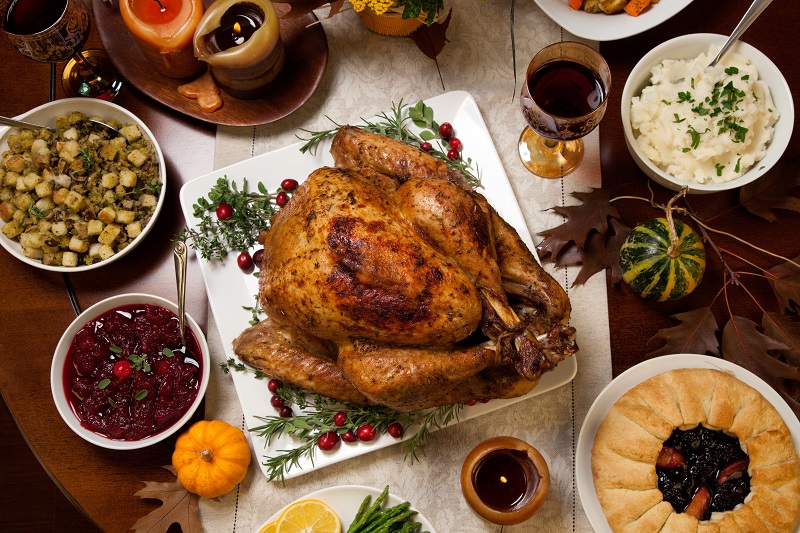 Get Active
Eating less and exercising more is the key to keeping weight gain at bay during the holidays. If you want to indulge on the big day without popping out of your seams, increase the length of your runs or workout routine leading up to Thanksgiving. Meanwhile, eat less as the day approaches to create a calorie deficit. This will allow you to feast without noticing the pinch.
On Thanksgiving Day, make it a family adventure by going for a group hike in the morning, playing a game of tag football in the afternoon, and/or taking a post-meal walk. In addition to burning off extra calories and putting everyone into an active, non-gluttonous mindset, it will bring everyone together for a truly memorable Thanksgiving.
Lighten Up
You don't have to lather on the butter, gravy, and whole milk cheddar in order to have a delicious and savory Thanksgiving feast. Whether you're hosting and cooking Thanksgiving dinner or simply bringing a dish to share, there are plenty of terrific low-fat alternatives.
With most recipes calling for more fat and sugar than is needed, nobody is going to notice if you use healthier, low-calorie ingredients, such as:
Fat-free chicken broth for gravy and to baste the turkey
Stevia or fruit purees as a replacement for oil in pies and baked goods
Low-fat butter for rolls, vegetables, and, well, everything
Low-fat sour cream for casseroles, mashed potatoes, and creamy dips
Slowly Savor the Flavor
Thanksgiving shouldn't be an excuse to stuff yourself to the gills and plant yourself to the couch. Instead, try embracing the social aspect of the occasion, eating slowly, and appreciating each delicious mouthful.
Eating slowly, tasting each mouthful, and putting your fork down in between each savory bite is one of the easiest ways to feel satisfied with much less food and truly enjoy your meal. Choosing plenty of whole grains, broth soups, vegetables, fruit, and other foods with plenty of fiber and water will also increase your fullness and squash any thoughts of going back for seconds.
Another idea is to spread the food and fun out across the day rather than a single time. Serve breakfast, go for a walk, eat midday, play some outdoor games if the weather permits, and then have some dessert. Cap it off with a movie and you've had one heck of a well-balanced day!
Be Realistic
Thanksgiving is the start of the holiday season, so splurging and indulging is only natural. Between our busy schedules and the endless temptations, it's a time of year to focus on weight management and not weight loss.
By shifting your mindset to maintaining your weight rather than losing it, you'll find yourself ahead of the curve and prepared to avoid weight gain this Turkey Day.
To help reinforce this mindset, do something active the day before and in the morning the day of. Go ahead and plan on burning off some calories the following morning as well. Knowing you've burned those extra calories beforehand and plan on burning more will allow you to indulge without the guilt.
Focus on Friends and Family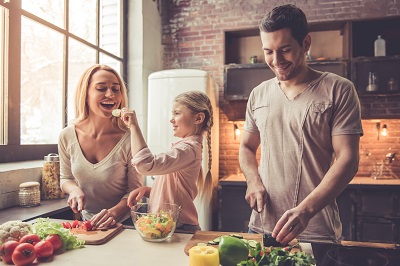 Thanksgiving is about much more than consuming a delicious feast. It's a time for celebration and enjoying the relationships of friends and family.
It may sound cliché, but this Thanksgiving focus on the people and all of the things in your life you're thankful for. This will not only make the day more special and memorable, but it will also shift your focus from pigging out on food!
What's your favorite ways to eat healthy and stay balanced through the holidays? Share your thoughts; we'd be happy to hear from you!