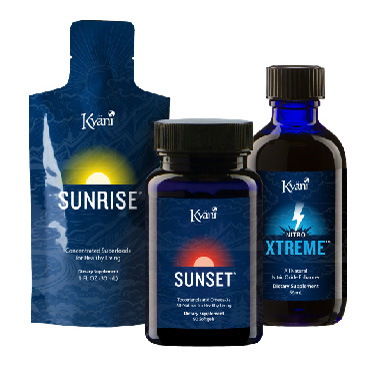 Kyani Nitro Xtreme Triangle of Health Pack
This popular pack features three key products: Sunrise, Sunset, and Nitro Xtreme. We recommend this pack as it offers the best value for money, and the products work cohesively together to form a powerhouse nutritional program like no other.
Our Price: $121.95
Buy Now
Clicking 'Buy Now' will direct you to the 100% secure main Kyani website, where you will complete the purchase. All purchases are shipped from the closest distribution center in your country of residence.
Supercharge Your Health With 3 Amazing Products!
The Kyani Nitro Xtreme Triangle of Health Pack contains the following products:
30 x Packets of Kyani Sunrise – Kyani Sunrise is a one-of-a-kind daily nutritional powerhouse of essential vitamins, trace minerals, taurine, L-Theanine, Inositol, and 11 antioxidant Superfoods.
90 x Capsules of Kyani Sunset – Kyani Sunset is an Omega-3 supplement consisting of a combination of tocotrienols, a powerful composition of the compound Vitamin E, natural sources of Omega-3s from Wild Alaskan Sockeye Salmon, Beta Carotene and Vitamin D.
1 x 56ml Bottle of Kyani Nitro Xtreme – After thousands of studies, the medical and science communities have discovered a way to help you get an adequate daily supply of Nitric Oxide that will last for many hours at a time. Kyani Nitro Xtreme is more powerful than any other product on the market (including Kyani FX).
The benefits of this product include:
Supports the immune system
Encourages healthy digestion
Enables healthy inflammatory response
Supports cardiovascular health
Helps maintain healthy cholesterol levels
Supports cognitive function
Promotes circulation
Supports sexual health
Promotes energy
How Can You Buy the Kyani Nitro Xtreme Triangle of Health Pack?
USA, Canadian and international orders can be placed by clicking on the appropriate button or link above.
Kyani Nitro Xtreme Triangle of Health Pack
5

out of

5

based on

2

reviews.
Overall rating:
Awesome product
★★★★★
"
Been using the extreme triangle for 12 months and have had much higher quality sleep and improvements in my training and recovery. Have had numerous operations on my knee and shoulder from injuries being a former rugby player and have noticed massive improvements in my join flexibility and ability to train more regularly without issues after about 2 weeks on the product.
"
Kyani Pack
★★★★★
"
I've tried heaps of nutritional products before but these are right up there with the best. When you think about it not to expensive either. 5 stars for sure!
"