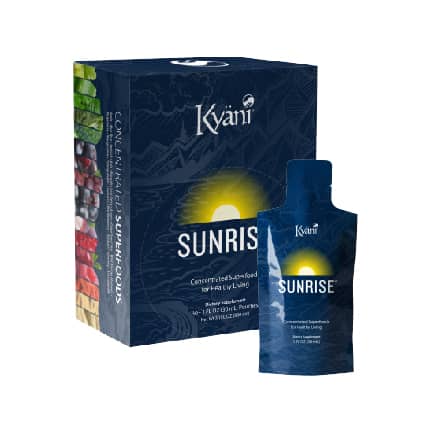 Kyani Sunrise
If you could invigorate your mind and body every morning with the finest nutrients available, for less than a cup of coffee or a glass of green tea, would you? Of course you would, and now you can. Kyani Sunrise is a one-of-a-kind daily nutritional powerhouse of essential vitamins, trace minerals, taurine, L-Theanine, Inositol, and 11 antioxidant superfoods.

A single serving of Kyani Sunrise a day supports the immune system, encourages healthy digestion, maintains heart health, boosts energy and supports brain function, and supports cellular health and immune system effectiveness. *These statements have not been evaluated by the Food and Drug Administration. This product is not intended to diagnose, treat, cure, or prevent any disease.
Our Price: $45.95
Buy Now
Clicking 'Buy Now' will direct you to the 100% secure main Kyani website, where you will complete the purchase. All purchases are shipped from the closest distribution center in your country of residence.
What is Kyani Sunrise?
Each daily serving of Kyani Sunrise contains fives times more antioxidant protection than any of the other products on the market. This is only possible when it contains Resveratrol, a cardiovascular and collagen-essential antioxidant found in the skin of Wild Alaskan Blueberries. Wild Alaskan blueberries have nearly 50% more antioxidant power than any other form of blueberries on earth. Kyani Sunrise also contains Omegas 3 and 6 from wild-caught Alaskan Sockeye Salmon.
Kyani Sunrise is a pioneer and leader in the field of life-giving nutrients that balance vitamins, minerals, and superfoods in a precise manner to support the entire spectrum of your body's overall health. The properties of the other superfoods that work to make Kyani Sunrise the best daily supplement available for stamina, well-being, and energy include:
Proper Cellular Support
Supports the Immune System
Encourages Healthy Digestion
Maintains Heart Health
Antioxidant Support to Fight Oxidative Stress
Promotes Energy
Supports Cognitive Function
Enables Healthy Stress Management
Maintains Healthy Blood Sugar Levels
Maintains Healthy Joint Flexibility
Supports Brain Function
*These statements have not been evaluated by the Food and Drug Administration. This product is not intended to diagnose, treat, cure, or prevent any disease.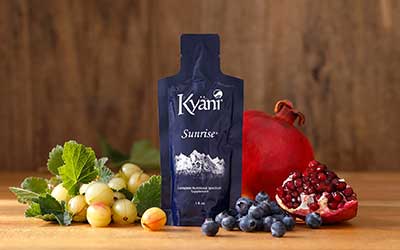 How Can You Buy Sunrise?
USA, Canadian and international orders can be placed by clicking on the appropriate button or link at the top of this page.
Kyani Sunrise
4.8

out of

5

based on

6

reviews.
Overall rating:
Love the Kyani Sunrise packets!
★★★★★
"
These little packets (sachets) are awesome! Love the taste, it's sweet but not overly sickly sweet, and the health benefits are amazing. I rarely get sick when I use these products and I even take them when I travel (lucky they are so small!)
"
Tastes good
★★★★★
"
Tastes awesome and find it convenient especially when travelling. Always use as it supplies me with all the nutrients I know I am lacking in my current nutrition plan.
"
Good before a busy day
★★★★☆
"
This product doesn't give me the 'lift' that the Nitro Xtreme does, but I still feel better after taking it. I prefer when I take them both together anyway.
"