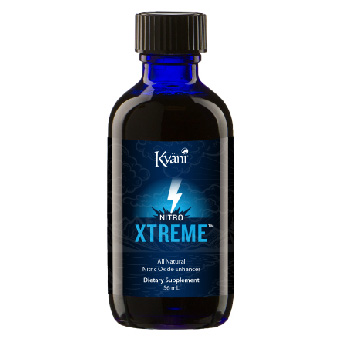 Kyani Nitro Xtreme
Is your body getting all of the Nitric Oxide (NO) it needs for optimal mental and physical performance? While you cannot live without NO, it does not remain in your body for long periods of time before you need to replenish it. After thousands of studies, the medical and science communities have discovered a way to help you get an adequate daily supply of NO that will last for many hours at a time. And that discovery is now available exclusively in Kyani Nitro FX and Kyani Nitro Xtreme.
Our Price: $54.95
Buy Now
Clicking 'Buy Now' will direct you to the 100% secure main Kyani website, where you will complete the purchase. All purchases are shipped from the closest distribution center in your country of residence.
What is Kyani Nitro Xtreme?
The researchers discovered that your body is able to produce an organic NO compound when you consume Noni fruit juice. Noni is a fruit, rich in antioxidants, that grows in tropical regions.
The pale green and white fruit is not much to look at, but it possesses a whole host of positive properties that include:
Promotes increased energy
Encourages blood flow
Helps improve circulation
Helps reduce inflammation
Encourages heart health
Supports cognitive function
Sustains the immune system
Both Kyani Nitro FX and Kyani Nitro Xtreme contain a proprietary blend of concentrated Noni that maximizes the positive impact of NO when consumed. Every system within your body benefits from NO. With so many wonderful attributes, it's no surprise that once someone tries a Kyani Nitro product, they want to continue receiving the wellness benefits it offers.
Who Can it Help?
Kyani Nitro Xtreme can help everyone from stay at home parents, students, business personnel, athletes, gym junkies and more. It works to increase the body's natural production of NO and it assists the body's ability to:
Improve nutrient absorption
Leads to better circulation and more energy
Reduce inflammation
Improve brain function
Enhance nutrient delivery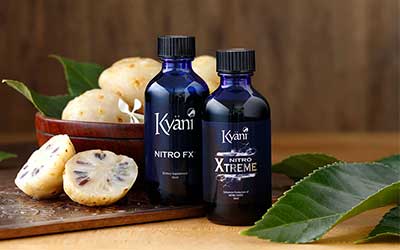 How Does Nitro Xtreme Differ from Nitro FX?
Kyani Nitro Xtreme builds upon the Kyani Nitro FX foundation while adding more NO and 5 additional ingredients. Kyani Nitro Xtreme is 3 and a half times stronger than Kyani Nitro FX and is for those more demanding activities when you'll want to increase energy, mental clarity, and physical stamina. The added components, and their benefits, are:
CoQ10 – An anti-oxidant compound that supports 95% of your body's energy and encourages blood flow and helps improve circulation.
Magnesium – A mineral that aids in the conversion of proteins, carbohydrates, fats, and sugars into energy. It also supports the ability of your muscles to relax and contract.
Zinc – A trace element that helps a number of key systems within your body.
Chromium – A mineral that supports your healthy blood sugar levels, your immune system, your lean body mass, and your heart health.
Niacin – This is Vitamin B3 and is required for overall good health. It converts carbohydrates and fat into energy, and it supports your heart health, your digestive tract, and your nervous system.
How Do You Consume Nitro Xtreme?
One serving size of either Kyani Nitro FX or Kyani Nitro Xtreme is 20 drops (1ml). It is taken once in the morning and once in the afternoon for optimal nutritional value throughout the day. The concentrated Noni liquid has a strong flavour that can be diluted with water or other juices.
How Can You Buy Kyani Nitro Xtreme?
Nitro Xtreme is available in a 56ml bottle or pack of 8x15ml mini bottles.

The price per 56ml bottle is:
Our price: Just $54.95
Regular retail price: $58.95
The price per box of 8x15ml mini bottles is:
Our price: Just $93.95
Regular retail price: $99.95
USA, Canadian and international orders can be placed by clicking on the appropriate button or link at the top of this page.
Kyani Nitro Xtreme
5

out of

5

based on

5

reviews.
Overall rating:
Workout recovery
★★★★★
"
After suffering post viral neuropathy in June, I've just started back at the gym, taking extreme assists in my recovery, I have little to no muscle pain & no unwanted inflammation.. I'm good to go the next day again! Taken along side the other Health Triangle products, you can't ask for a better health & wellness bunch of products! They are amazing 🙂
"
Best for the gym.
★★★★★
"
A friend gave me some of these products as he had some spare. The Xtreme is the best IMO. Sometimes I use with my normal preworkout when I'm really tired but most of the time I don't need to...
"
All day on the kiteboard, no worries!
★★★★★
"
My son gave me this product to try and I now use it when I go kiteboarding. Love the energy which I really need as I usually go out for a few hours. Will be buying more when I run out that's for sure.
"